Yesterday, many of our staff including our CEO went out to enjoy some beer at a beer garden after work.
Beer and a few other drinks were available self-service, and a variety of food to eat with the drinks were provided enough for everyone to be satisfied after a long hard day of work.
I now regret not taking a picture during the fun time... but here is a picture of our staff at the bottom of the building where we had our feast.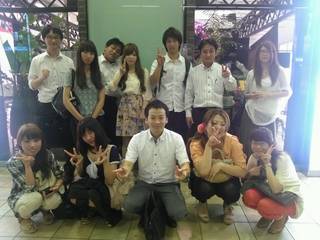 Many beer gardens open during the summer in Japan, and many many people enjoy the cold trickling down of beer down their throats in the hot humid weather.
It is one of the seasonal events that you can recognize when you come to Japan at this time of the year!
If you want to buy Japanese used cars, please offer from CarPricenet.com!!
Thank you.
Jun Takemoto
CM MANAGEMENT CO.,LTD
You can find
Japanese used cars
here.