July in Kyoto, Japan is the festival season.
For the whole month, the Gion Festival is on in the city of Kyoto.
The festival reaches its climax on July 17th, when a lot of festival floats pass through the streets of Kyoto city.
I went the other day to Kyoto, and there were many many people!!
When I went there, you could go up on the festival floats.
Here is a picture of one.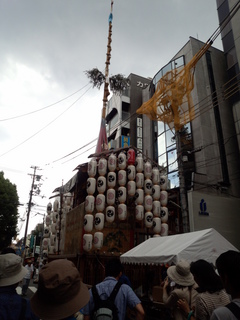 Kyoto is a city with a lot of traditional buildings and cultures.
Make sure you visit here when you come to Japan!! You will be able to enjoy the gist of Japan...
If you want to buy Japanese used cars, please offer from CarPricenet.com!!
Thank you.
Jun Takemoto
CM MANAGEMENT CO.,LTD
You can find
Japanese used cars
here.