Tanabata (Japanese Star Festival)
This Sunday, July 7th, is Tanabata in Japan.
Tanabata is a day which two stars, Orihime (female) and Hikoboshi (male) can meet just once in a year.
The two are separated apart by the Milky Way, but are allowed to meet each other on just this day, July 7th.
On Tanabata, we write our wishes on a paper strip called "Tanzaku", and hang it on bamboo grass.
Every year, bamboo grass appears for residents to hang their wishes at my apartment.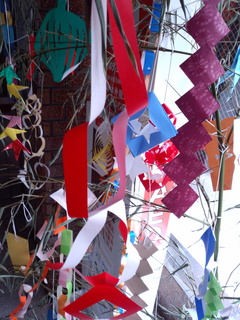 What would you like to write on the Tanzaku?
I wonder what I would too...
If you want to buy Japanese used cars, please offer from CarPricenet.com!!
Thank you.
Jun Takemoto
CM MANAGEMENT CO.,LTD
You can find
Japanese used cars
here.